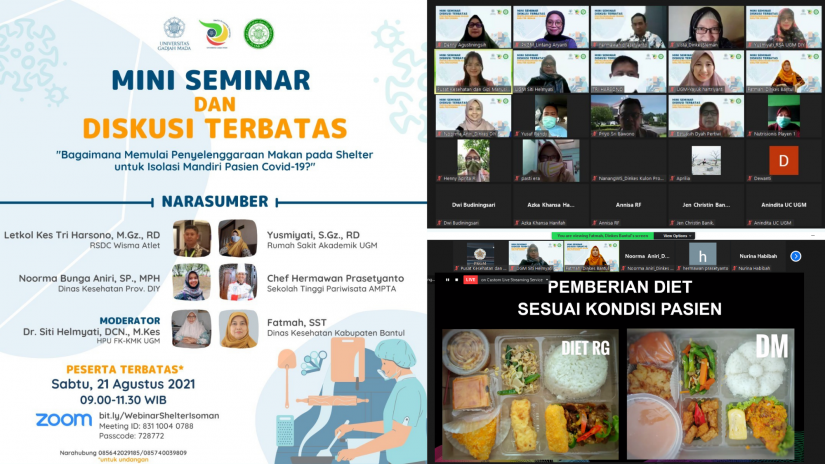 YOGYAKARTA-The Health Promoting University (HPU) Team of the Faculty of Medicine, Public Health, and Nursing (FK-KMK) in collaboration with the Center for Human Health and Nutrition (PKGM), FK-KMK, Universitas Gadjah Mada, held a mini webinar and limited discussion entitled Food Management at Self-Isolation Shelters for COVID-19 patients. The event was held via Zoom on Saturday, August 21st, 2021, at 09.00-11.30 WIB and attended by 61 participants.
The incidence of COVID-19 in Indonesia are increasing. Even in July 2021, the incidence rate is the highest in the world. It is followed up by the government emergency response by implementing partial lockdown (PPKM) in Java-Bali Island. There are high burdens for hospitals and other health facilities across the Island that the government have to seek for an alternative. The authorities recommend all COVID-19 patients with mild symptoms to self-quarantine in their homes. However, not all houses meet the standard for self-isolation considering the dense population in both islands. It was often the patients did not well monitored and worsen their condition, even led to death. The government, together with the private and other parties, built shelters specified for isolation. This, however, brings other issues regarding the quality of service. Not all isolation shelters worker are well equipped. Especially their ability to manage nutritious and healthy foods for the patients. We would like to answer this challenge and bring the limited discussion between the expert in nutrition who have the experience for COVID-19 patients' food management and food coordinators in isolation shelters in Yogyakarta Province.
This mini webinar and limited discussion presented five source persons including Health Lieutenant Colonel Tri Harsono, M.Gz., RD from COVID-19 Emergency Hospital Wisma Atlet; Yusmiyati, S.Gz., RD from Academic Hospital of UGM; Chef Hermawan Prasetyanto from the AMPTA Tourism College; Noorma Bunga Aniri, SP, MPH from the Yogyakarta Provincial Health Office; and Fatmah, SST from the Bantul Public Health Office.
The activity was opened by Dr. dr. Denny Agustiningsih, M.Kes., AIFM as the Head of the HPU FK-KMK UGM Team. She gave messages that this discussion is the chance to learn from each other. In the near future, she hoped a guideline for organizing meals in shelters for self-isolation can be drawn up.
There were several materials presented, including 1) the implementation of nutrition care at the Wisma Atlet Hospital, 2) the implementation of nutrition care at the UGM Academic Hospital, 3) culinary preparations in food preparation for self-isolated COVID-19 patients, 4) nutritional guidelines for self-isolated COVID-19 patients, and 5) sharing experiences in organizing nutrition care for COVID-19 patients in isolation shelters in Bantul District.
Participants were very enthusiastic about participating in this activity. The participants came from various isolation shelters throughout the Yogyakarta Province, either shelter managed by the District/City or Provincial Health Offices, Social Services, Universities, or others. Although this activity may not be able to reach all food organizers in all self-isolation shelters in Yogyakarta, hopefully, this can increase the exposure to shelter organizers. We also hope that this event can increase understanding that nutritional fulfillment for self-isolated COVID-19 patients is very important in supporting recovery. [MW&SH]