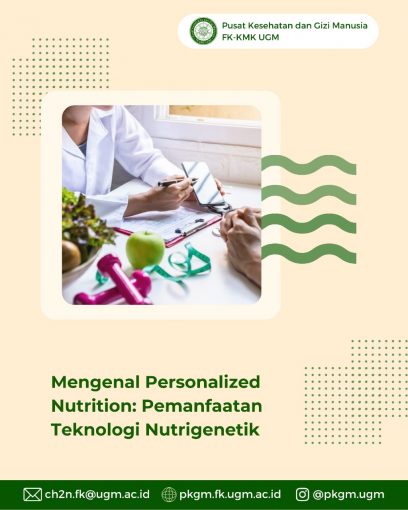 Recently people are familiar and connected with the science and technology development especially in the health area. In health area, technology has been widely used in such areas as communication, education, and health management. Besides that, technology has also been widely used for diet management, food nutrition database, and anthropometrics measurements. Technological applications in the field of nutrition have now entered a "genomic era" that relates to the development of nutrigenetic. Nutrigenetic is science that studies the interaction between the genetic impact and nutrition in specific individuals. The relationship between genes and individual nutrition intake is specifically known by the term personalized nutrition. The term has broken the old approach called "one size fit all" which means the nutritional needs are united for everyone.
Based on the concept of the personalized nutrition, each individual has a unique gene in its own to adapt to nutrition intake, environment, and risk of illness. The genetic factors of each individual are also linked to physical activity, health status, and eating habits. Today, the personalized nutrition is thriving because it has the benefit of predicting the prevention of certain infectious diseases or malnutrition through a genetic approach. The personalized nutrition can also contribute to the continuation of dietary plans. Application of genetic examination of nutrition can be performed in both vulnerable individuals (such as the elderly and pregnant mothers) as well as in healthy groups of individuals who wish to prevent disease and promote health status. The samples used for genetic screening can be biological samples such as blood and saliva.
One example of a widely studied personalized nutrition application is at the risk of obesity. According to some studies, single nucleotide polymorphism (SNPS) represents a genetic variant commonly used to predict diet interactions related to obesity. The study included a personalized nutrition application for the prevention of non-communicable diseases. The interaction of SNPS and diet can be seen at table 1.
Table 1. SNPS and diet interactions
| | | | | |
| --- | --- | --- | --- | --- |
| Gene | Polymorphism | Allele | Diet Interaction | Main Findings |
| FTO | rs8050136 | A | High carbohydrate | Increased obesity risk |
| LCT | rs4988235 | T | High lactose | Increased obesity risk |
| PPARG | rs1801282 | G | High fat | Higher BMI |
| TXN | rs2301241 | T | Low vitamin E | Higher WC |
| ADAM17 | rs10495563 | A | Low n-6 PUFA | Increased obesity risk |
| TNFA | rs1800629 | A | High fat | Increased obesity risk |
| APOA5 | rs662799 | T | High fat | Higher adiposity markers |
| LEPR | rs1137101 | G | High SFA/High fat | Increased obesity risk |
| APOB | rs1469513 | G | High fat | Increased obesity risk |
| APOA2 | rs5082 | C | High fat dairy foods | Higher BMI |
Source: Ramos-lopez and martinez (2020)
Despite its many benefits, the utilization of nutrigenetic for the personalized nutrition in Indonesia is still quite expensive today. Additionally, it requires much further research on the scale of laboratories, clinical trials, and populations. However, it is not expected that this does not hinder the potential for development and utilization of the long-term development of health-care technology in Indonesia.
References
Aji, A. S. 2020. Personalized Functional Foods: Masa Depan Penerapan Personalized Nutrition Advice. Prosiding Seminar Nasional Online: Peran Pangan Fungsional dan Nutraseutikal dalam Meningkatkan Sistem Imun Mencegah Covid – 19, Juni 2020, Bogor, pp. 303 – 310.
Caradonna, F. et al. 2020. Science and Healthy Meals in the World: Nutritional Epigenomics and Nutrigenetics of the Mediterranean Diet. Nutrients. Multidisciplinary Digital Publishing Institute, 12(6), pp. 1–23.
Freitag L. M., H. 2021. Mengenal Konsep Personalized Nutrition [Internet]. Tersedia dalam: <https://gizigama.com/2021/12/13/mengenal-konsep-personalized-nutrition/> [Diakses 6 Maret 2022]
Jayasinghe, M. 2020. Importance of Nutrigenomics and Nutrigenetics in Food Science. MOJ Food Process Technols, 8(3), pp. 114–119.
Ordovas, J. M. et al. 2018. Personalized  Nutrition and Health. BMJ (Online). BMJ Publishing Group, 361, pp. 1–7.
Prasanti, D. dan Fuady, I. 2018. Pemanfaatan Media Komunikasi Dalam Penyebaran Informasi Kesehatan Kepada Masyarakat. Reformasi, 8(1), pp. 8–14.
Ramos-lopez, O. and Martinez, J. A. 2020. Nutrigenetic Approaches in Obesity and Weight loss in Precision Medicine for Investigators, Practitioners and Providers. Elsevier Inc., pp. 409–415.
Rankin, A. et al. 2018. Food Choice Motives, Attitude Towards and Intention to Adopt Personalized  Nutrition. Public Health Nutrition. Cambridge University Press, 21(14), pp. 2606–2616.