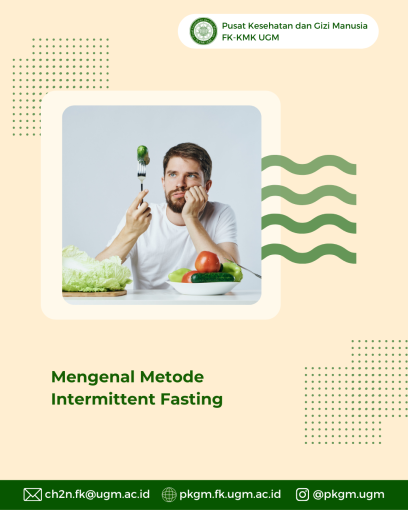 Intermittent fasting is an eating plan that involves restricting calorie intake or not eating either for a set period of time on a regular schedule. Intermittent fasting focuses on when you eat and when you don't eat, instead of what foods you should eat less or more of. Intermittent fasting is practiced in a similar way as Ramadan fasting, which involves fasting for approximately 12 hours. Intermittent fasting gives an advantage, including increasing the immune system, lowering cholesterol, reducing risk factors for cardiovascular disease and lowering blood pressure. 
Because of the negative effects, intermittent fasting is not recommended for pregnant women and nursing mothers, children and adolescents under the age of 18, those at risk of hypoglycemia, diabetes, or people with certain chronic diseases. If you have side effects like headaches, nausea, or other symptoms after practicing intermittent fasting, you should consult a doctor. There are several methods that can be used by those who want to start intermittent fasting, including:
The 5:2 Diet
This method is used twice a week and involves eating only one portion of food (about 500-600 calories). To keep calories low when fasting, it is highly recommended to eat foods high in fiber and protein. On the other five days of week, you are free to eat normally. If you choose to eat normally every day of the week except Sunday and Monday, for example.
The 16/8 method
You have choice of eating for 8 hours and fasting for 16 hours. For example, you may eat from 10 a.m. until 6 p.m. and then fast for the next 16 hours. Some people find it simple to maintain this method over time.
Eat-Stop-Eat
This method involves fasting for a full 24 hours once or twice a week. You can fast from breakfast till breakfast the next day, then continue after one day of not fasting. The negative effects of this method might be severe, including weariness, headaches, and hunger.
Reference:
Cleveland Clinic (2022).

Intermittent Fasting: How It Works and 4 Types Explained.

[Online] Available at:

https://health.levelandclinic.org/

[Accessed April 6, 2022]

Dong, TA, Sandesara, PB, Dhindsa, DS, Mehta, A., Arneson, LC, Dollar, AL, … & Sperling, LS (2020). Intermittent fasting: a heart healthy dietary pattern?.

The American journal of medicine

,

133

(8), 901-907.

Johns Hopkins Medicine (2022).

Intermittent Fasting: What is it, and how does it work?

[Online] Available at:

https://www.hopkinsmedicine.org/

[Accessed April 6, 2022]

Mohamed, AI, Abdi, AM and Abilahi, MM (2020). Ramadan Intermittent Fasting and Its Beneficial Effects of Health: A Review Article.

Central African Journal of Public Health, 6

(5), 288-292.