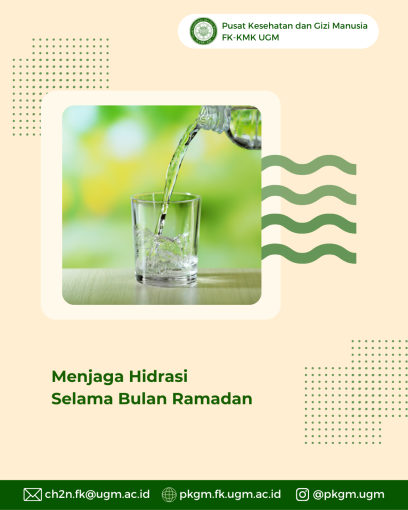 Certainly it is not an easy thing to hold thirst for more than 12 hours per day. Under normal circumstances, adult body requires ± 2 liters of fluid every day. Lack of fluids can cause disturbances in brain function such as difficulty thinking, headaches, fatigue, and impaired muscle function. Therefore, in this article, we will discuss tips that can be done to keep the body hydrated during fasting.
During fasting, our bodies can experience mild dehydration which is characterized by headaches, fatigue, and difficulty concentrating. To prevent excessive thirst, we can divide the time to drink water with the following pattern: 1 glass when breaking the fast, 1 glass after dinner, 1 glass after Isha' time, 1 glass after Tarawih time, 1 cup before bed, 1 cup after wake up, 1 glass at dawn, and 1 glass before Fajr. The volume of water that is drunk at one time should not be excessive (only about 250 – 300 mL / glass) because the body will not be able to absorb large amounts of water at once. Dairy products such as milk and yogurt are also high in water content so they are good for supplementing daily fluid needs.
Consumption of fruits and vegetables
Eating fruits and vegetables is also highly recommended, because in addition to containing high water content, they also contain vitamins and minerals that are good for the body. Examples of fruits that contain a lot of water are watermelon, strawberries, oranges, melons, and pineapples. In addition, vegetables that are high in water content include spinach, broccoli, tomatoes, and carrots.
Avoid caffeine consumption
You should avoid drinking tea or coffee before fasting because the caffeine contained in it is a diuretic. Consumption of tea and coffee will increase the frequency of urination and make our bodies thirsty faster. This will make dehydration worse.
Hot temperatures can increase the release of fluid through the skin pores. Taking a cold shower will keep your body from excreting a lot of fluids. In addition, showering with cold water can also help reduce stress and improve mood.
References:
Enhance (2022).

Cold Showers and Intermittent Fasting: The Benefits to Your Health

. [online]. Available at: enhancenaturals.co.uk

Khuraaki (2022). 

A Guide on Healthy Eating and Hydration During Ramadan

. [online]. Available at:

https://khuraaki.co.uk

.

Shadman Z, Akhoundan M, Poorsoltan N (2016). Nutritional Education Needs in Relation to Ramadan Fasting and Its Complications in Tehran, Iran. 

Iran Red Crescent Med J

. 18(8):e26130.

UCLA Health (2019).

Healthy Tips for Ramadan.

[online]. Available at: https://connect.uclahealth.org/2019/05/01/healthy-tips-for-ramadan.